Young Guns at it again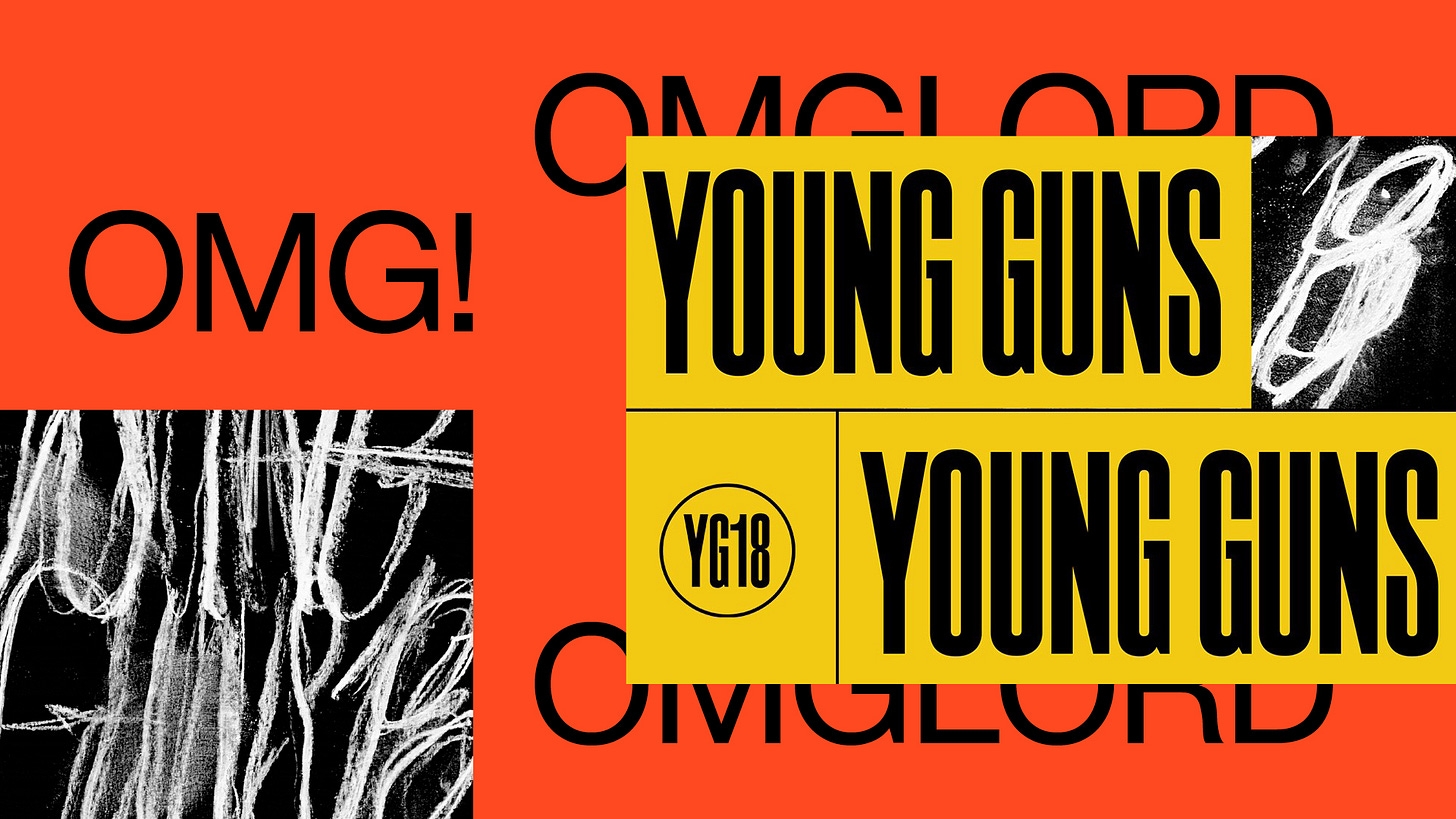 It's that time of year again when I am simultaneously envious and impressed by the talent of the YG Finalists. I always feel extremely conflicted with industry awards—but can still certainly appreciate the calibre and effort it takes. Each and every person deserves to win but I wanted to share some of those in the Graphic Design section that stood out to me, as the list can be pretty overwhelming!
Anjela Freyja
An independent art director and designer currently based in Montreal. Lots of delicious typography to drool over here.
Badal Patel
An independent graphic designer, art director and photographer based in NYC. I love Badal's use of colour in so many of her projects.
Felipe Rocha
A Brazilian designer and creative director. Felipe is the co-founder of Porto Rocha and has an incredible amount of work under his belt for someone under 30 years old.
Jon Key
An NYC artist and designer. This website is more focused on his art side of things and very much worth looking through.
Zuzanna Rogatty
A New York-based Polish designer. You might recognise Zuzanna's type work from the Collins Ideas section.
Stay safe and healthy folks,
Gabby
---
Resource of the Week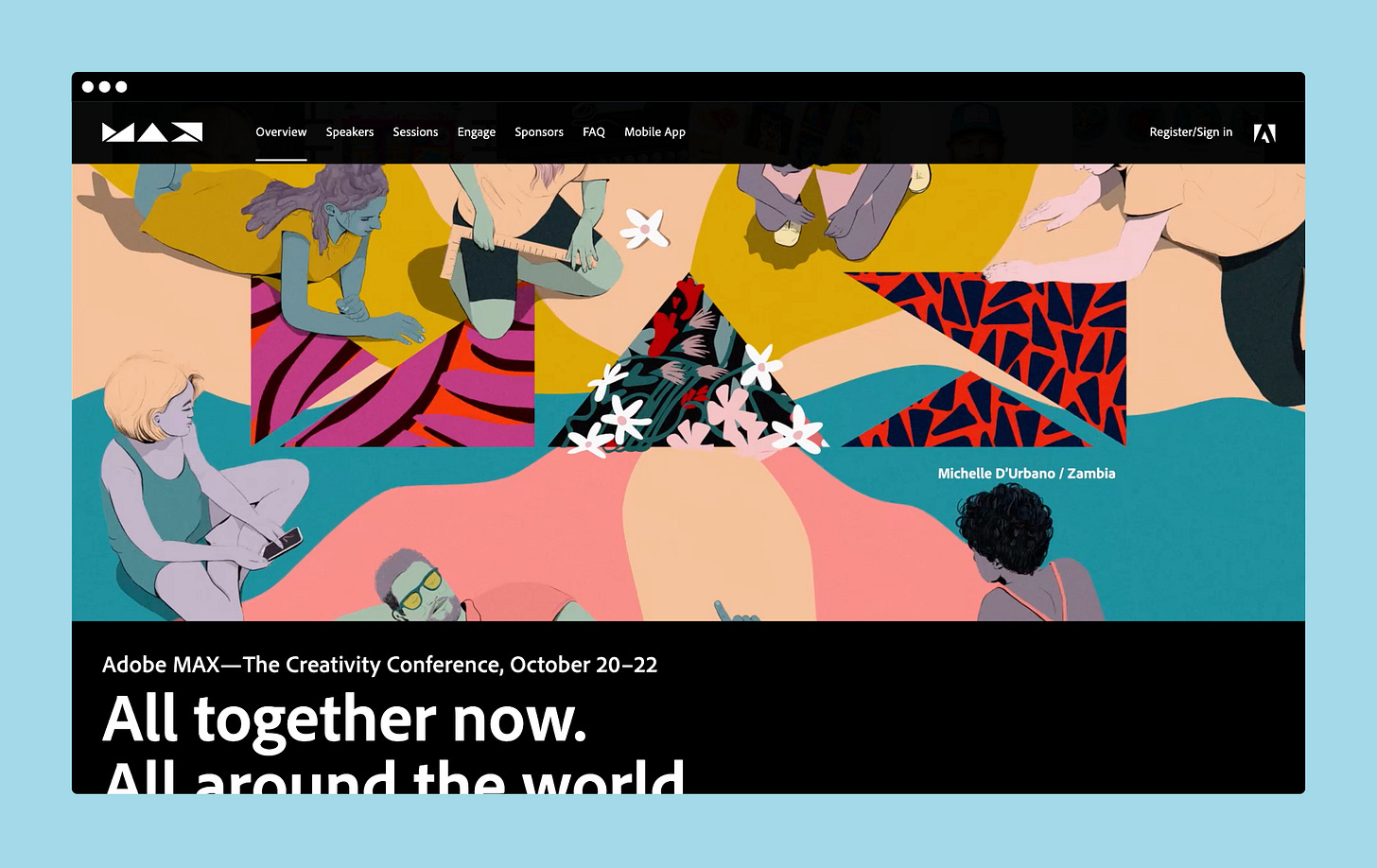 Make plans to join Adobe Max for a uniquely immersive and engaging digital experience, guaranteed to inspire. Three full days of luminary speakers, celebrity appearances, musical performances, global collaborative art projects, and 350+ sessions—and all at no cost. A reminder that this is not sponsored, I'm just very excited about such an awesome and accessible event.
---
Studio Sounds
Track
Sakura Sunrise
Listen while
Being released from mandatory hotel quarantine.
Got a great tune, track, or podcast worth sharing? Let me know!
---
Recommended Reads

Your guide to making big decisions right now. Advice to help you navigate major choices during an ongoing crisis.

Richard Turley on how Instagram has "weaponised" our need to be liked. Thanks for the great recco, Flick.
---
Candid Classifieds
Kat Bak is available for remote (or Melbourne/Geelong) UX design roles. Part- or full-time.

Unconforming is a newsletter on women + design, bringing you the best insights on gender gaps and inequities with a design lens. They exist to make design for women mainstream.

SHIFT is a one-year fellowship designed to build innovative frameworks for safer and more intentional social spaces online. If you are working towards creating a better, ethical internet they want to work with you!
You can submit a classifieds link here—it's free! Conditions apply.
---

Thanks for reading! If you enjoy receiving these emails please️ consider supporting Beirut Editions. Limited-edition prints in support of relief efforts in the wake of the Aug. 4 explosion.
---
All resources and links are shared purely because I think they are cool, interesting, or helpful. No content is sponsored unless explicitly stated. I am open to submissions but cannot promise they will be featured.
You can reach me directly via Twitter, Instagram, or by replying directly to this email.
---
OMGLORD
Things that make G–Lord say OMG
Copyright © 2020
Gabby Lord
All Rights Reserved