A lot has made me say OMG this past week. The brutality, the injustice, the silence.

I'm no expert—and I'm far from perfect when it comes to being actively anti-racist—but it feels tone-deaf not to acknowledge what's going on right now. My platform is humble in size, but many of you are white people of privilege and I'm hoping this week you'll really take some time to dig into the resources I'm sharing.

Anti-Racism Resources
If you're looking for a place to start, I collated links from people much smarter and braver than me. If you need it broken down further:
Donate
So many organisations and people need your help. There is a list in the link above and so many more posted all over Instagram. Everything counts.

Petition
Sign and share. It takes one Google search.

Vote
Racism exists everywhere—not just in the US. Use your power to demand systemic reform.

Do not be silent
It's uncomfortable, but not as much as someone kneeling on your neck until you die. Talk to your friends and family and demand justice for George Floyd and the thousands of Black people who have been killed.

Educate yourself
You have no excuse to be ignorant. Do the work.

Selected links that relate to the design industry:

Blacks Who Design
Highlighting inspiring Black designers in the industry. The goal is to inspire new designers, encourage people to diversify their feeds, and discover amazing individuals to join your team.

Casual Archivist
A special issue of Elizabeth Goodspeed's newsletter. Excerpted from a piece by the Letterform Archive, about The Black Panther and its designer Emory Douglas—revolutionary artist and the party's Minister of Culture.

28 Days of Black Designers
A project by Tim Hykes that focuses on the stories and work of African American and Black designers. The Black community lack stories and accomplishments of Black artists.

Vocal Type
Vocal Type is working to diversify design through the root of all (good) works of graphic design—typography. Each typeface highlights a piece of history from a specific underrepresented race, ethnicity, or gender—from the Women's Suffrage Movement in Argentina to the Civil Rights Movement in America.

Fonts In Use
A collected set of fonts in use, designed by African American designers.

Stay safe and well,
Gabby
---
Resource of the Week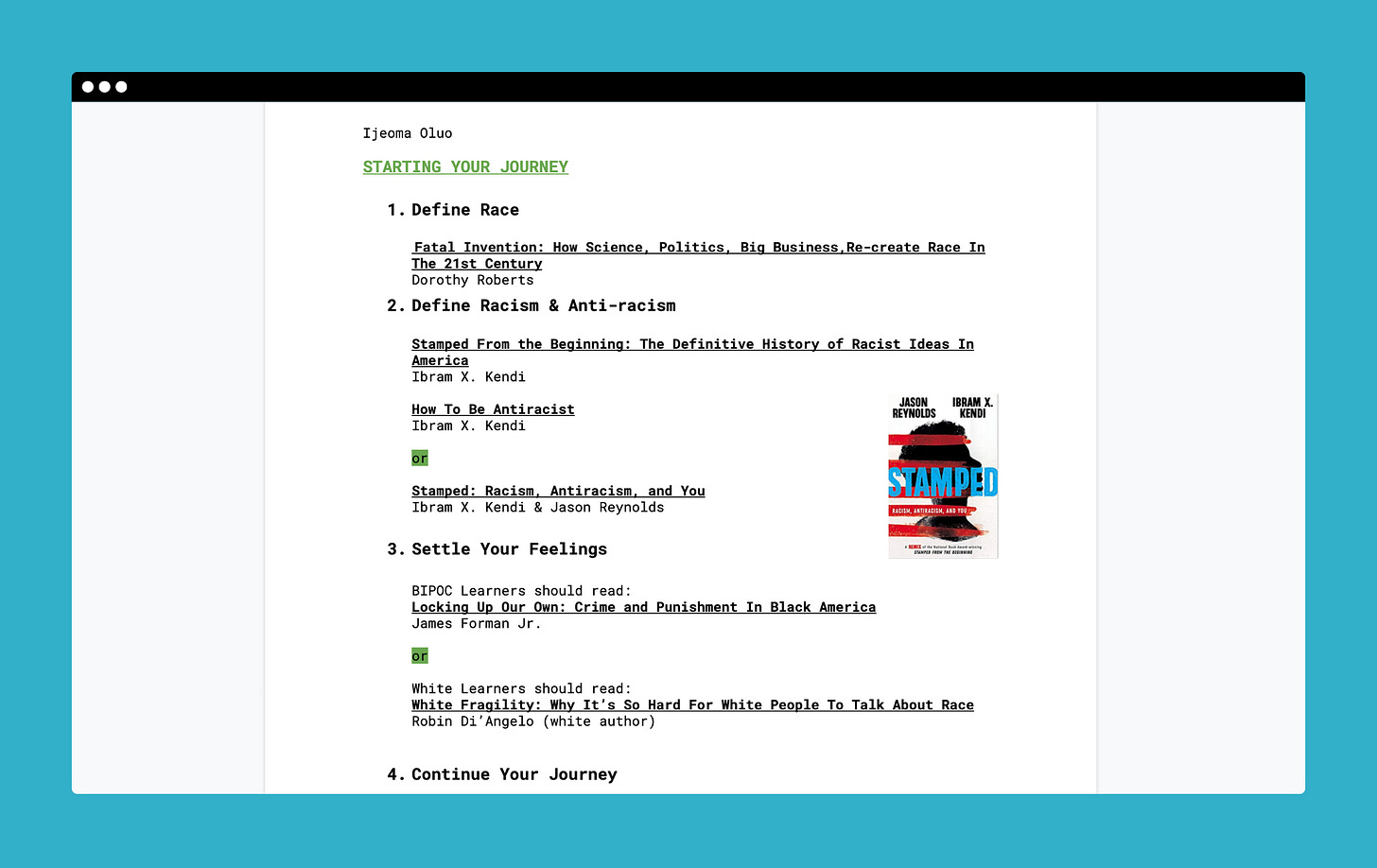 The most comprehensive guide I was able to find and originally crafted amidst the anger of the black body turned hashtag #AhmaudArbery. Please consider paying Tasha K. Ryals (Venmo @tatortash) for doing this work for you.

Shareable Anti-Racism Resource Guide
---
Feeling extra generous? Consider a donation of any amount to The Okra Project.

The Okra Project is a collective that seeks to address the global crisis of violence by providing resources and meals to Black Trans people worldwide.
Donate here ❤️
---
Thanks for reading! If you enjoy receiving these emails please️ share with a friend 🙏
All resources and links are shared purely because I think they are cool, interesting, or helpful. No content is sponsored unless explicitly stated. I am open to submissions but cannot promise they will be featured.
You can reach me directly via Twitter, Instagram, or by replying directly to this email.
---
OMGLORD
Things that make G–Lord say OMG
Copyright © 2020
Gabby Lord
All Rights Reserved