I feel so lucky to be able to do my job with little more than a laptop and wifi connection. While completely shifting to remote work so suddenly was possible, it certainly didn't come without challenges. I've had a bit more headspace this week to revisit some trusty resources, as well as discover new ones when it comes to remote work processes and setups.
The past months have felt less like working from home and a lot more like living at work. If that sounds familiar to you too, here are some links for taking back some remote control, in order to (hopefully!) get some more work-life balance.
The Ultimate Guide to Leading a Remote Design Team
Well, snap! This article is amazing. Cassie McDaniel on best practices for keeping your remote team happy and productive. Written in 2019, I don't think she anticipated just how handy this would be for people. Thoughtful and actionable—already implementing these tips as I type.
REMOTE: Office Not Required
I read this book years ago and it's definitely a relevant time to revisit it. It's written by the founders of 37Signals (Basecamp + Hey) that shows both employers and employees how they can work together, remotely, from any desk, in any place, anytime, anywhere. They have been doing it long before 2020 and very much know what they are talking about. I've more recently dived into their online resources for WFH.
Figma Brainstorms
Alia Fite walks through how to run a remote brainstorm using Figma. During the pandemic, I've opened Figma a number of times trying to get used to it but it's honestly driving me a little wild—how do you all do it?! I'm chalking it up to practice, but right now we aren't the best of buds. If Figma is your jam, this might be your kinda bread and butter.
Miro
A collaborative online whiteboard platform designed for remote and distributed teams. If you're Figma-challenged like I am, Miro might be a good and more affordable alternative.
Stay safe and well friends,
Gabby
---
Resource of the Week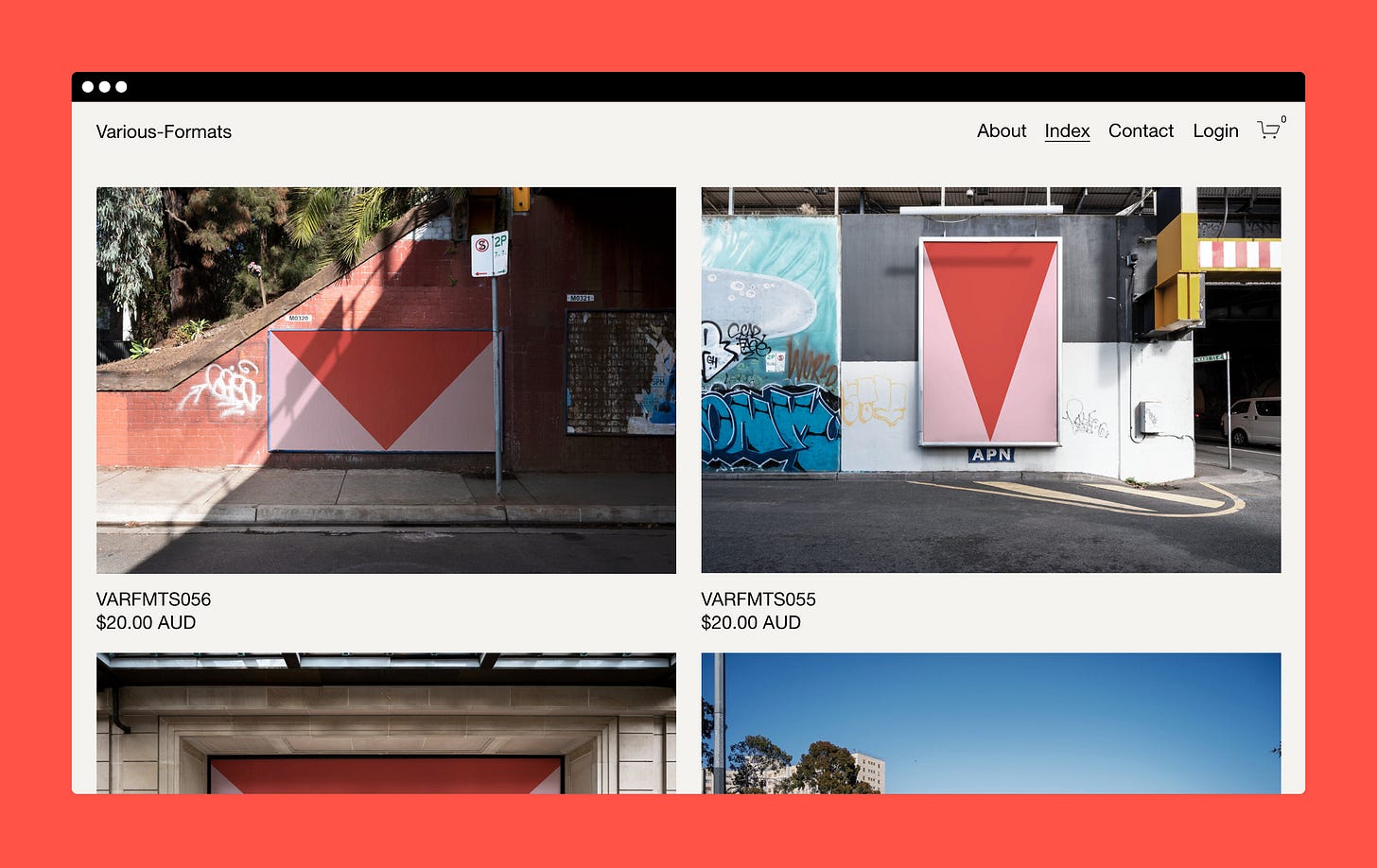 Various-Formats is a creative resource agency, helping designers, illustrators and directors showcase their concepts in-situ. I am ALL for more of these websites popping up! Despite having an impressive mockup library (if I do say so myself) there is still so much fatigue of seeing the same image on multiple agency and portfolio websites. The more of these resources, the merrier.
---
Studio Sounds
Album
What's Your Pleasure? by Jessie Ware
Listen while
Designing or during post-disco dance-offs.
Got a great tune, track, or podcast worth sharing? Let me know!
---
Lucky Dip Links
A not-for-profit venture to support unemployed artists and creatives. Submissions from an incredible cast of contributors bring it to life.
Currently can't get enough of Lucas Zanotto's IG account. A director, designer, and animator, his work is truly mesmerising.
---
Candid Classifieds
You can submit a classifieds link here—it's free! Conditions apply.
---
Feeling extra generous? Consider a donation of any amount to Red Cross Lebanon to provide vital aid to Beirut.
Donate here ❤️
---
Thanks for reading! If you enjoy receiving these emails please️ share with a friend 🙏
All resources and links are shared purely because I think they are cool, interesting, or helpful. No content is sponsored unless explicitly stated. I am open to submissions but cannot promise they will be featured.
You can reach me directly via Twitter, Instagram, or by replying to this email.
---
OMGLORD
Things that make G–Lord say OMG
Copyright © 2020
Gabby Lord
All Rights Reserved
---